Result of the research : 'paris'
CHAMBA

















african art / art africain / primitive art / art primitif / arts premiers / art gallery / art tribal / tribal art / Afrique / Africa / l'oeil et la main / galerie d'art premier / achat / vente / expertise / expert / exposition / exhibition / collection / collectionneur / Paris / oeuvre / Verneuil / antiquités / antiquaire / musée / museum / masque / mask / statue / sculpture / Agalom / Armand Auxiètre / www.african-paris.com / www.agalom.com






The Quai Branly museum is set on quai Branly in the 7th district of Paris, where was located the Foreign Exchange Market Department. Ambitious project led by Jacques Chirac (passionated by « primitive art ») and realised by Jean Nouvel, it has been unveiled the 20th of June 2006.

History

Jacques Kerchache, art seller and african art expert, tried from the begining of the 1990's to bring the « primitive arts » into the Louvre museum. In 1990 he signed in the newpaper Libération an article on this topic ; the same year he met Jacques Chirac, then mayor of Paris.

The latter is elected president of the Republic in 1995. As soon as he arrived at the head of the State, he askes for the opening of a primitive art department at the Louvre museum. One year later he announced the project of creation of a new museum, which quickly meet an opposition, especially with a strike of the personnal of the Man museum in 1999, to stand in the way of the disassembly of the museum's collections and criticize the primacy of the aesthetic choice instead of the scientific factors.

An architecture competition is sent out in 1999, designating Jean Nouvel as the architect.

This museum is unveiled the 20th of June 2006 by Jacques Chirac, in the presence of Kofi Annan, Rigoberta Menchú, Paul Okalik, Dominique de Villepin, Lionel Jospin and Jean-Pierre Raffarin. The Quai Branly museum has the status of public administratove institution. It's placed under the guardianship of the Department of Culture and

[ See the continuation... ]





african art / art africain / primitive art / art primitif / arts premiers / art gallery / art tribal / tribal art / l'oeil et la main / galerie d'art premier / Agalom / Armand Auxiètre / www.african-paris.com / www.agalom.com

[
See the continuation...
]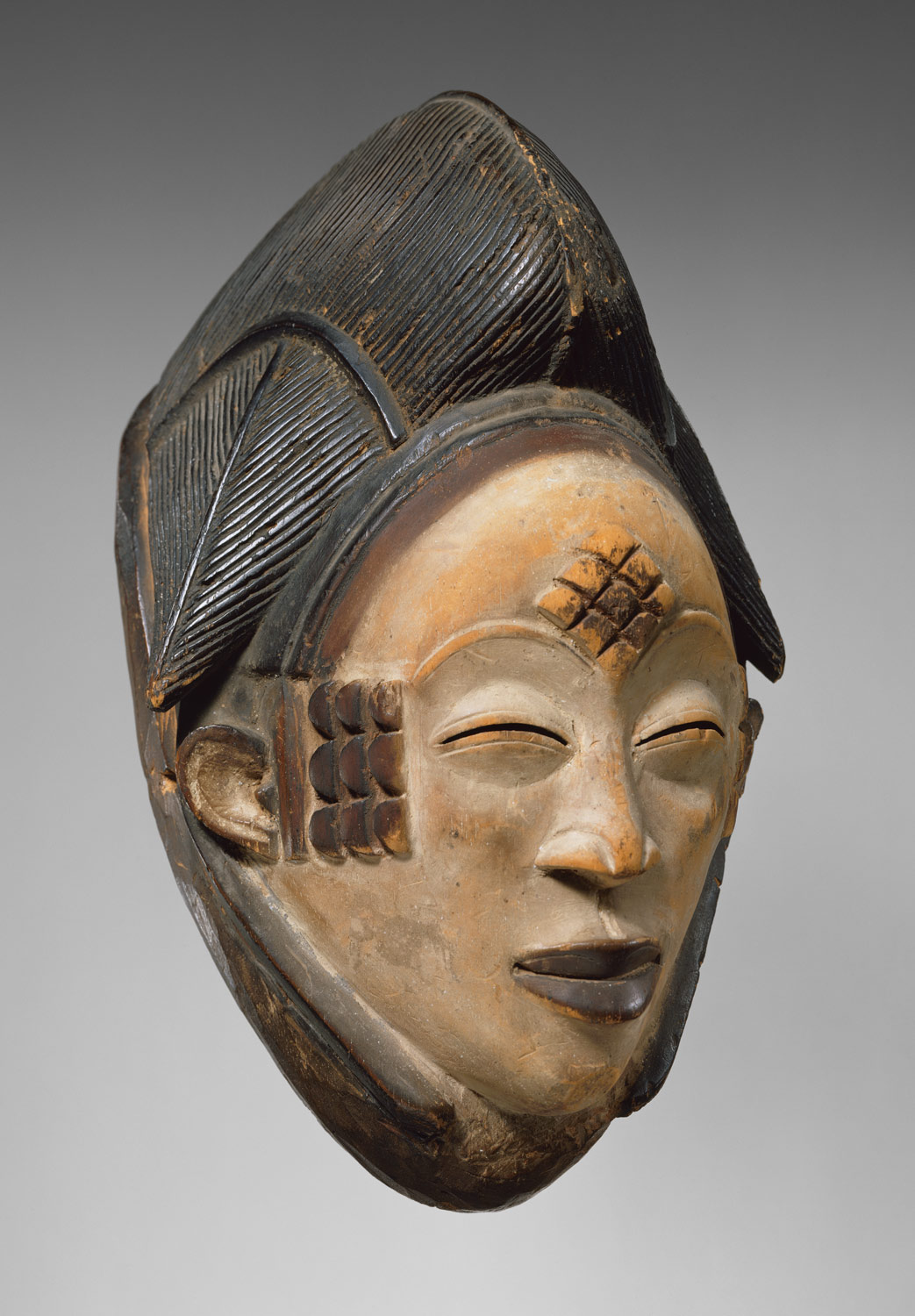 Mukudj Mask, 19th–20th century
Punu people, Gabon
Wood, pigment, kaolin; H. 13 1/2 in. (34.3 cm)
Purchase, Louis V. Bell Fund and The Fred and Rita Richman Foundation and James Ross Gifts, 2000 (2000.177)

The Metropolitan Museum of Art


african art / art africain / primitive art / art primitif / arts premiers / art gallery / art tribal / tribal art / l'oeil et la main / galerie d'art premier / Agalom / Armand Auxiètre / www.african-paris.com / www.agalom.com




[ See the continuation... ]


Anne-Louise Amanieu
Ecole du Louvre
Specialty Arts of Africa
December 2007

Fang mask society Ngil, Gabon, Pavilion des Sessions at the Louvre

IDENTIFICATION

Fang mask the Pavillon des Sessions consists partly of wood covered with kaolin and measure about 70 cm high. It dates from the late nineteenth century or early twentieth. Listed under the inventory number 65-104-1, it comes from the former collection of André Lefèvre and was acquired in 1965 by the Museum of Man.

DESCRIPTION

This great helmet mask represents a stylized human face, whose face and elongated heart-shaped and slightly concave is shared by a long thin nose. On the top of the forehead develops a studded headband for attaching ornaments and who bears a ridge with extension to the front leads by three strokes for joining the nasal bridge and deployed above the eyebrows. The C-shaped ears stand out in high relief on both sides of the face, as the eyes and mouth, they are barely mentioned by simple incisions highlighted by thin slits etched tattoos that recall that arborist and the Fang Ntoumou Mvai by Günter Tessmann.

ANALYSIS

The mask of Ngil (NGI) exists only among the Fang, the people established the Sanaga River (southern Cameroon) Ogooué River (northern Gabon) and in Equatorial Guinea after a period of migration to the eighteenth and

[ See the continuation... ]


Tristan Tzara (born Samuel or Samy Rosenstock, also known as S. Samyro; April 4 or April 16, 1896 – December 25, 1963) was a Romanian and Frenchavant-garde poet, essayist and performance artist. Also active as a journalist, playwright, literary and art critic, composer and film director, he was known best for being one of the founders and central figures of the anti-establishmentDada movement. Under the influence of Adrian Maniu, the adolescent Tzara became interested in Symbolism and co-founded the magazine Simbolulwith Ion Vinea (with whom he also wrote experimental poetry) and painter Marcel Janco. During World War I, after briefly collaborating on Vinea's Chemarea, he joined Janco in Switzerland. There, Tzara's shows at the Cabaret Voltaire and Zunfthaus zur Waag, as well as his poetry and art manifestos, became a main feature of early Dadaism. His work represented Dada's nihilisticside, in contrast with the more moderate approach favored by Hugo Ball.

After moving to Paris in 1919, Tzara, by then one of the "presidents of Dada", joined the staff of Littérature magazine, which marked the first step in the movement's evolution toward Surrealism. He was involved in the major polemics which led to Dada's split, defending his principles against André Breton and Francis Picabia, and, in Romania, against the eclecticmodernism of Vinea and Janco. This personal vision on art defined his Dadaist plays The Gas Heart (1921) and Handkerchief of Clouds (1924). A forerunner of automatist techniques, Tzara eventually rallied with Breton's Surrealism, and, under its influence, wrote his celebrated utopianpoem The Approximate Man.

During the final part of his career, Tzara combined his humanist and anti-fascistperspective with a

[ See the continuation... ]


Picture of a Zulu chief, South Africa. It was made in 1880. The photo illustrates Man in native dress standing in front of hut.
www.old-picture.com

african art / art africain / primitive art / art primitif / arts premiers / art gallery / art tribal / tribal art / l'oeil et la main / galerie d'art premier / Agalom / Armand Auxiètre / www.african-paris.com /

[ See the continuation... ]


african art / art africain / primitive art / art primitif / arts premiers / art gallery / art tribal / tribal art / l'oeil et la main / galerie d'art premier / Agalom / Armand Auxiètre / www.african-paris.com / www.agalom.com
[
See the continuation...
]
Arman (November 17, 1928 – October 22, 2005), was a French-born Americanartist.Born Armand Pierre Fernandez in Nice, France, Arman is a painter who moved from using the objects as paintbrushes ("allures d'objet") to using them as the painting itself. He is best known for his "accumulations" and destruction/recomposition of objects.
Biography
Arman's father, Antonio Fernandez, an antiques dealer in Nice, was also an amateur artist and photographer, as well as a cellist. From his father, Arman learned oil painting and photography. After receiving his bachelor's degree in philosophy and mathematics in 1946, Arman began studying at the Ecole Nationale d'Art Decoratif in Nice. He also began learning Judo at a police Judo School in Nice where he met the artists Yves Kleinand Claude Pascal. The trio would bond closely on a subsequent hitchhiking tour of the nations of Europe. Completing his studies in 1949, Arman enrolled as a student at the École du Louvre in Paris, where he concentrated on the study of archaeology and oriental art. In 1951, Arman became a teacher at the Bushido Kai Judo School. During this time he also served in the French military, completing his tour of duty as a medical orderly during the Indo-Chinese War.
Early career

Early in the development of his career, it was apparent that Arman's concept of the accumulation of vast quantities of the same objects was to remain a significant component of his art. Ironically, Arman had

[ See the continuation... ]


André Breton (February 19, 1896 – September 28, 1966) was a French writer, poet, and surrealisttheorist, and is best known as the main founder of surrealism. His writings include the Surrealist Manifesto of 1924, in which he defined surrealism as pure psychic automatism.
Biography
Born to a family of modest means in Tinchebray(Orne) in Normandy, he studied medicineand psychiatry. During World War I he worked in a neurological ward in Nantes, where he met the spiritual son of Alfred Jarry, Jacques Vaché, whose anti-social attitude and disdain for established artistic tradition influenced Breton considerably. Vaché committed suicide at age 24 and his war-time letters to Breton and others were published in a volume entitled Lettres de guerre (1919), for which Breton wrote four introductory essays.
From Dada to Surrealism

In 1919 Breton founded the review Littérature with Louis Aragon and Philippe Soupault. He also connected with DadaistTristan Tzara. In 1924 he was instrumental to the founding of the Bureau of Surrealist Research.

In The Magnetic Fields (Les Champs Magnétiques), a collaboration with Soupault, he put the principle of automatic writing into practice. He published the Surrealist Manifesto in 1924, and

[ See the continuation... ]


Pablo Diego José Francisco de Paula Juan Nepomuceno María de los Remedios Cipriano de la Santísima Trinidad Martyr Patricio Clito Ruíz y Picasso (25 October 1881 – 8 April 1973) was an Andalusian-Spanishpainter, draughtsman, and sculptor. As one of the most recognized figures in twentieth-century art, he is best known for co-founding the Cubistmovement and for the wide variety of styles embodied in his work. Among his most famous works are the proto-Cubist Les Demoiselles d'Avignon (1907) and his depiction of the German bombing of Guernica during the Spanish Civil War, Guernica (1937)

Biography

Picasso was baptized Pablo Diego José Francisco de Paula Juan Nepomuceno María de los Remedios Cipriano de la Santísima TrinidadClito, a series of names honouring various saints and relatives. Added to these were Ruíz and Picasso, for his father and mother, respectively, as per Spanish custom. Born in the city of Málaga in the

[ See the continuation... ]


André Derain (10 June 1880 – 8 September 1954) was a French painter and co-founder of Fauvism with Henri Matisse.

Biography

André Derain was born in 1880 in Chatou, Yvelines, Île-de-France, just outside Paris. In 1898, while studying to be an engineer at the Académie Camillo, he attended painting classes under Eugène Carrière, and there met Matisse. In 1900, he met and shared a studio with Maurice de Vlaminck and began to paint his first landscapes. His studies were interrupted from 1901 to 1904 when he was conscriptedinto the French army. Following his release from service, Matisse persuaded Derain's parents to allow him to abandon his engineering career and devote himself solely to painting; subsequently Derain attended the Académie Julian.
Derain and Matisse worked together through the summer of 1905 in the Mediterraneanvillage of Collioureand later that year displayed their highly innovative paintings at the Salon d'Automne. The vivid, unnatural colors led the critic Louis Vauxcelles to derisively dub their works as les Fauves, or "the wild beasts", marking the start of the Fauvist movement. In March 1906, the noted art dealer Ambroise Vollard sent Derain to London to compose a series of paintings with the city as subject. In 30 paintings (29 of which are still extant), Derain put forth a

[ See the continuation... ]





From humble beginnings, Paul Guillaume (1891–1934) rose to become one of the leading cultural players and art dealer-collectors of Paris in the early twentieth century. Guillaume died at the age of forty-two, by which time he had amassed an outstanding private collection of works by leading modernists. Unlike many art collectors of the time, Guillaume did not come from a wealthy and cultivated background, nor was he only interested in simply supplying works of art for customer demand like other art dealers. He also actively promoted certain aspects of the artistic and cultural life of Paris, providing moral and material support to artists, and interpreting the art of his time for his contemporaries. This approach, while not uncommon today, was innovative at the time and had previously been attempted by only a few courageous dealer-collectors in Paris, such as Paul Durand-Ruel and Ambroise Vollard. Guillaume was celebrated by the artists whom he supported; for instance in Modigliani's portrait the words Novo Pilota, or 'new helmsman', identify the sitter as being at the forefront of modern art.

Guillaume's premature death prevented his dream – of transforming his private collection to a museum of modern art – from being realised. After his death Domenica, his widow and heir, remarried and modified the existing collection, selling some of the more extreme avant-garde works (and later his collection of African art and modern sculpture) and acquiring works of a more conservative character. Domenica's concern to promote harmony among the works in the Guillaume collection made her edited version of the collection all the more typically a capsule of Parisian taste in the 1920s. Before he died, Paul Guillaume had resolved to give his collection to the Louvre. Domenica, a lover of

[ See the continuation... ]


Jean Paul Barbier-Mueller is a Swiss collector, born in Geneva in 1930.


Biography

He has been under the influence of a passionnate father : poetry, philosophy, musicor science (he got his PhD in biology at the age of 47).

After law studies in Geneva and London, he registers at the Bar and become manager, at the age of 28, of a financial society. In 1960, he creates his own society, the Private Society of Managment, specialized in the managment of the housing stock and construction of social flats.

Collector as his father-in-law Josef Mueller, he goes in for « non-western » arts. With his wife Monique, he creates in 1977 the Barbier-Mueller museum, which organize more than seventy-five exhibitions, most of them attended with importants catalogues, presenting the differents sections of the familial collection, with the contribution of major european, american and asian museums. He carries out or finances researches in Sumatra, in Ivory Coast and Guinea. He's one of the best expert of the Batak ethnic group, in the north of Sumatra. In may 1997, the Barbier-Mueller precolombian art museum opens opposite to the Picasso museum, in Barcelona. The town council offers a long-time loan from the Nadal Palace to expose around 400 works of art from Pre-Hispanic America.


Jean Paul Barbier-Mueller is also a recognized specialist of the poetry and the french history of the 16th century. Bibliophile since the age of 13, he has gathered one of the most full library devoted to Ronsard and other authors of the Pléiade. Entitled « Ma Bibliothèque poétique », the catalogue of this collection count 7 volumes already published. Jean Paul Barbier-Mueller has also written many articles for journals such as « Bibliothèque d'humanisme »,

[ See the continuation... ]


Sir Henry Morton Stanley , GCB, born John Rowlands (January 28, 1841 – May 10, 1904), was a Britishjournalist and explorer famous for his exploration of Africa and his search for David Livingstone. Stanley is often remembered for the words uttered to Livingstone upon finding him: "Dr. Livingstone, I presume?", although there is some question as to authenticity of this now famous greeting.

Biography


Stanley was born in Denbigh, Wales. At the time, his mother, Elizabeth Parry, was nineteen years old. According to Stanley himself, his father, John Rowlands, was an alcoholic; there is some doubt as to his true parentage. His parents were unmarried, so his birth certificate refers to him as a bastard, and the stigma of illegitimacy weighed heavily upon him all his life. He was raised by his grandfather until the age of five. When his guardian died, Stanley stayed at first with cousins and nieces for a short time, but was eventually sent to St. Asaph Union Workhouse for the poor, where overcrowding and lack of supervision resulted in frequent abuse by the older boys. When he was ten, his mother and two siblings stayed for a short while in this workhouse, without Stanley realizing who they were. He stayed until the age of 15. After completing an elementary education, he was employed as a pupil teacher in a National School. In 1859, at the age of 18, he made his passage to the United States in search of a new life. Upon arriving in New Orleans, he absconded from his boat. According to his own declarations, he became friendly with a wealthy trader named Stanley, by accident: he saw Stanley sitting on a chair outside his store and asked him if he had any job opening for a person such as himself. However, he did so in the British style, "Do you want a boy, sir?" As it happened, the childless man had indeed

[ See the continuation... ]


Pietro Paolo Savorgnan di Brazzà, best known as Pierre Paul François Camille Savorgnan de Brazza (January 26,1852 - September 14, 1905), was a Franco-Italian explorer, born in Italy and later naturalizedFrenchman. With the backing of the Société de Géographique de Paris, he opened up for France entry along the right bank of the Congo that eventually led to French colonies in Central Africa. His easy manner and great physical charm, as well as his pacific approach among Africans, were his trademarks. Under French colonial rule, Brazzaville, the capital of the Republic of the Congo was named in his honor.
Early years

Born in Rome on January 26,1852, Pietro Savorgnan di Brazzà was the seventh son of Count Ascanio Savorgnan di Brazzà, a nobleman of Udine with many French connections and Giacinta Simonetti. Pietro was interested in exploration from an early age and won entry to the French naval school at Brest, graduated as an ensign, and went on the French ship Jeanne d'Arc to Algeria.
Exploration to Africa

His next ship was the Venus, which stopped at Gabonregularly, and in 1874, de Brazza made two trips, up the Gabon Riverand Ogoue River. He then proposed to the government that he explore the Ogoueto its source, and with the help of friends in high places, including Jules Ferryand Leon Gambetta, he secured partial funding, the rest

[ See the continuation... ]


Jean Rouch (31 May1917 - 18 February2004) was a French filmmaker and anthropologist.
He began his long association with African subjects in 1941 after working as civil engineer supervising a construction project in Niger. However, shortly afterwards he returned to France to participate in the Resistance. After the war, he did a brief stint as a journalist with Agence France-Presse before returning to Africa where he become an influential anthropologist and sometimes controversial filmmaker.
He is considered as one the pioneers of Nouvelle Vague, of visual anthropology and the father of ethnofiction. Rouch's films mostly belonged to the cinéma vérité school – a term that Edgar Morinused in a 1960 France-Observateur article referring to Dziga Vertov's Kinopravda. His best known film, one of the central works of the Nouvelle Vague, is Chronique d'un été (1961) which he filmed with sociologist Edgar Morin and in which he portrays the social life of contemporary France. Throughout his career, he used his camera to report on life in Africa. Over the course of five decades, he made almost 120 films.
He died in an automobile accident in February 2004, some 16 kilometres from the town of Birnin N'Konni in central Niger.
Main films
1954: Les Maîtres Fous (The Mad
[ See the continuation... ]


Germaine Dieterlen (1903-1999) was a French anthropologist. She was a student of Marcel Mauss and wrote on a large range of ethnographictopics and made pioneering contributions to the study of myths, initiations, techniques (particularly "descriptive ethnography"), graphic systems, objects, classifications, ritual and social structure.
She is most noted for her work among the Dogon and the Bambaraof Mali, having lived with them for over twenty years, often in collaboration with noted French anthropologist Marcel Griaule (1898-1956).
Themes

Some of the main themes in her work concentrate on the notions of sacred kingship, the position of the first born, relationships between maternal uncles and nephews, division of labor, marriage, and the status of the rainmaker in Dogon society. Because each episode of the rite is enacted only once every sixty years, Dieterlen's documentation of the sigui cycle allowed the Dogon themselves to see and interpret the entire sequence of rites which they had heretofore only observed in part.
Researches

Dieterlen began her ethnographic research in Bandiagara, Mali in 1941. Perhaps most controversially, Dieterlen was criticized by her peers for her publications with Griaule on Dogon astronomy, which professed an ancient knowledge of the existence of a dwarf white star,Sirius Balso called the Dog Star, invisible to the naked eye. This ancient

[ See the continuation... ]


african art / art africain / primitive art / art primitif / arts premiers / art gallery / art tribal / tribal art / l'oeil et la main / galerie d'art premier / Agalom / Armand Auxiètre / www.african-paris.com / www.agalom.com
[
See the continuation...
]
Julien Michel Leiris (April 20, 1901 in Paris – September 30, 1990 in Saint-Hilaire, Essonne) was a Frenchsurrealistwriter and ethnographer.
Biography

Michel Leiris obtained his baccalauréat in philosophy in 1918 and after a brief attempt at studying chemistry, he developed a strong interest in jazz and poetry. Between 1921 and 1924, Leiris met a number of important figures such as Max Jacob, Georges Henri Rivière, Jean Dubuffet, Robert Despos, Georges Bataille and the artist André Masson, who soon became his mentor. Through Masson, Leiris became a member of the Surrealistmovement, contributed to La Révolution surréaliste, published Simulacre(1925), and Le Point Cardinal (1927), and wrote a surrealist novel Aurora(1927-28; first published in 1946). In 1926, he married Louise Godon, the step-daughter of Picasso's dealer Daniel-Henry Kahnweiler and traveled to Egypt and Greece.

Following a fall out with André Breton in 1929, he joined Bataille's team as a sub-editor for Documents, to which he also regularly contributed articles such as "Notes on Two Microcosmic Figures of the 14th and 15th Centuries" (1929, issue 1), "In Connection with the 'Musée des Sorciers" (1929, issue 2), "Civilisation" (1929, issue 4), "The 'Caput Mortuum' or the Alchemist's Wife" (1930, issue 8), and on artists such as Giacometti,Miró, Picasso, and the 16th

[ See the continuation... ]


Marcel Griaule (Aisy-sur-Armançon, Yonne, 1898 - Paris, 1956) is a french ethnologist.


After having passed several months in Abyssinia (1928 - 1929), he organised the crossing of Africa from west to east: it's the Dakar-Djibouti mission from 1931 to 1933 with Michel Leiris, André Schaeffner and other ethnologists, marking in the same time the start of the field ethnology. During this expedition, he studied the Dogon group, on which he consacred the majority of his researches.


Very linked to the dogon culture, he contributed to the development of the region by promoting the construction of an irrigation boom for the culture of onion and pepper in the region of Sangha.

One of his main contribution (related to ethnology) is having proved that the dogon cosmogony is at least as important as the western ones. However, he'll be very criticized for having under-estimate the western influence in the dogon astronomical knowledge. He has been one of the rare ethnologists to get traditional african funerals.

In 1941, he stood in for his former amharique professor Marcel Cohen, unauthorised to teach because of the anti-Semitic laws, at the INLCOV (School of the Eastern Languages).
From 1943 to his death, he's professor at la Sorbonne (first chair of ethnology). He's also advisor of the French Union. From 1940, he was the general secretary of the Africanists Society.

He has

[ See the continuation... ]